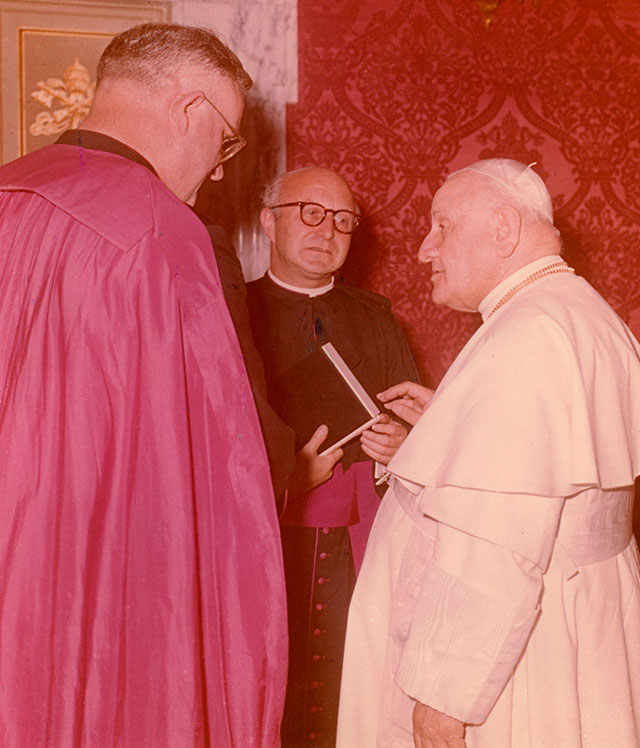 In 1960, only seven years after founding the Institute of Judaeo-Christian Studies, Father John M. Oesterreicher responded to Pope John XXIII's call for an ecumenical council by petitioning Augustin Cardinal Bea to probe the relation of the Church to the Jewish people.
Father Oesterreicher's work resulted in his becoming a principal architect of the "Statement on the Church's Bond to the Jewish People" within "Nostra aetate, 4." This watershed document laid the foundation for positive Jewish-Christian relations and influenced the work of countless individuals as well as episcopal conferences and bishops throughout the world.
Father Oesterreicher was subsequently named an Honorary Prelate with the title, "Monsignor," in recognition of his work.
In celebration of the canonizations of Popes John XXIII and Pope John Paul II in 2014, the Institute of Judaeo-Christian Studies sponsored an event recognizing Pope John XXIII and the impact on he had on Jews of the 20th century.
(Photo: Father John M. Oesterreicher (center) with Pope John XXIII, circa 1960s)
Submissions from 2014
Pope John XXIII & the Jews, David Dalin Ph.D.