Title
The Way, The Truth, The Life: Sacred Artifacts from the Seton Hall Collections
Preview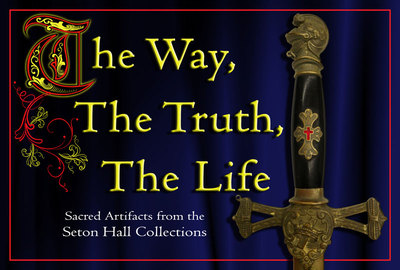 Exhibition Dates
September 12 - October 14, 2011
Description
This exhibition reveals a magnificent assembly of many previously unseen sacred artifacts from the University's vast collections. Curated by Pamela Schwartz and Danielle Shimkus, graduate students in the Museum Professions Program.
"We understand a piece of wood or stone only when we see God in it." - John Scotus Eriugena.
Founded in 1856 by Bishop James Roosevelt Bayley, Seton Hall University has a rich tradition rooted in Catholic ideals and values. An essential part of this tradition is demonstrated through the preservation of the past by collecting, researching and safe-guarding objects and artifacts that reflect our Catholic identity and history. These richly ornamented objects were created to evoke an ethereal atmosphere so that members of the Church might recognize God's existence in all things. From simple, yet beautifully made chalices to elaborate vestments, these artifacts show the marriage of function and beauty in items designed for devotion -- items that were meant to bring us closer to God.
COinS