Title
Detritus: An exhibition of art from recycled or found art materials
Preview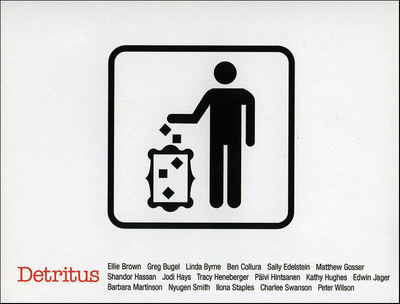 Exhibition Dates
April 16 - May 25, 2007
Description
Co-Curated by Mark Schlemmer, Kelsey Quillen, and Laura Browarney, students in the Masters Program in Museum Professions.
With invited artists Ben Collura, Tracy Heneberger, Nyugen Smith, Charlee Swanson, and Peter Wilson.
Also featuring Ellie Brown, Greg Bugel, Linda Byrne, Sally Edelstein, Matthew Gosser, Shandor Hassan, Jodi Hays, Pavi Hintsanen, Kathy Hughes, Edwin Jager, Barbara Martinson, and Ilona Staples.
Focusing on artwork made with found objects or discarded materials, Detritus is a mixed-media exhibit which will be on view at the Walsh Gallery at Seton Hall University from April 16 through May 25, 2007. Environmental concerns, recycling, and broader social issues are just some of the big picture themes explored by the artists represented in the exhibit. Through a collaborative effort with the Seton Hall University Environmental Studies department and local environmental groups, the exhibit will correspond with the celebration of Earth Day on April 22 and will engage the general public with a variety of community events, artist led talks and guided visits.
The Walsh Gallery gratefully acknowledges the support of the following: The Museum Professions Program, The Environmental Studies Program, The Center for Community Research and Engagement, The Mount Vernon School of Newark, NJ.
Funding Has Been Made Possible by the Puffin Foundation.
COinS