Title
Escaping the Rectangle - The Art of William Coronado
Preview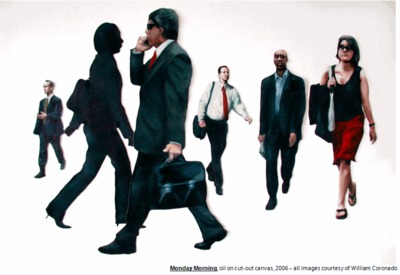 Exhibition Dates
June 11 - August 16, 2007
Description
Co-Curated by Gianluca Bianchino and Jeanne Brasile.
Escaping the Rectangle, an exhibition highlighting the art of William Coronado, will be on view at the Walsh Gallery at Seton Hall University from June 11 through August 16, 2007. This show gives emphasis to William Coronado's innovative paintings that stretch artistic limits by melding various media and ordinary objects without adherence to traditional boundaries between artistic disciplines. Coronado deliberately occludes the labeling of his work as painting, installation, digital art or sculpture by working adeptly within each of these formats to create a cohesive whole. Ultimately, he remains a painter with a highly inventive streak. This exhibition will provide the viewer with an insight into William Coronado's unconventional vision for the potential of painting.
An exhibition catalogue has been made possible through the generous support of Archives and Special Collections.
COinS