Title
Therese Mitchell: Photographs of New York in the 1930's and 40's, Illuminated by the Writing of Joseph Mitchell
Preview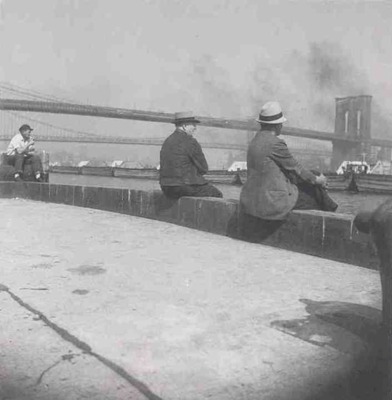 Exhibition Dates
May 10 - July 14, 2006
Description
Curated by Nora Mitchell Sanborn. Sponsored by The G.K. Chesterton Institute for Faith and Culture with generous support from The Earhart Foundation. Produced in concert with the one day symposium "Joseph Mitchell and the Free Life," Sunday, May 13th, 2006 10 a.m. to 6 p.m.
Perhaps no 20th - century writer has captured the life of everyday and out-of-the way New York City as did Joseph Mitchell. In the dozens of stories he filed with the New Yorker from 1938 to 1964, Joe Mitchell - a native of North Carolina - managed to capture the city's soul from the Bowery and South Street to North Gowanus and Sandy Ground. Many of those stories were published in four collections, the first in 1943 and the latest in 1965, but as they went out of print, Joe Mitchell's writings became a secret too well kept. Fortunately, thanks to their 1992 republication between the covers of one book, Up in the Old Hotel and the 1996 re-issue of Joe Gould's Secret and the release of the movie of the same name in 2000, Joe Mitchell's stories are no longer a secret.
But another of Joe Mitchell's secrets is only now being uncovered. During the 1930's and 40's, while Joe captured the city in writing, his wife, Therese, captured many of the same places on film. Not long ago, the Mitchells' daughter, Nora, found her mother's negatives and developed them using her mother's photographic equipment. Prints from those negatives are now on exhibit here for the public to discover.
Therese Mitchell's photographs capture the human moments of the city's life, some long since vanished, others still familiar: a man writing the day's menu on the glass of a restaurant window; a wig workers' labor demonstration; workmen eating their lunch under a torn poster advertising Heinz soup; striking Ohrbach's department store employees; people trying to survive hard times. In the immediacy of the images and their focus on the humanity of their subjects, Therese Mitchell's photographs mirror the written images in Joe Mitchell's stories.
COinS