Preview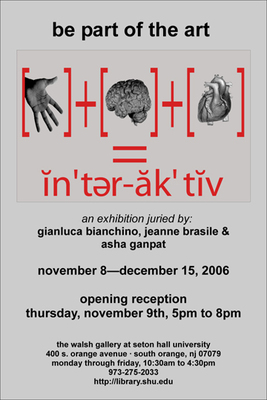 Exhibition Dates
November 8 - December 15, 2006
Description
This exhibition consists of works of art in which the viewer is obliged to complete the artists' intent by handling, playing with or contributing in some way to the art. By doing so, the viewer becomes an integral part of the artistic process and in essence, a co-creator of the piece. Artists from all over the country are participating in this show which was juried by Gallery Director, Jeanne Brasile, Artist/Gallerist/Professor, Asha Ganpat and Artist/Curator, Gianluca Bianchino.
Invited artists: john avelluto, shannon bellum, jamie evans, scott furman, asha ganpat, seth goodwin, brian gustafson, peter mallo, nacho montero, sarah nicole phillips, robert silverman.
Juried artists: justin bursk, sungjin choi, nancy elliott, dana filibert, carl gombert, yuichiro nishizawa, catya plate, steven rossi, lisa suss, jessica teckemeyer, florence weisz.
External Links
COinS