Title
A State of Health: New Jersey's Medical Heritage
Preview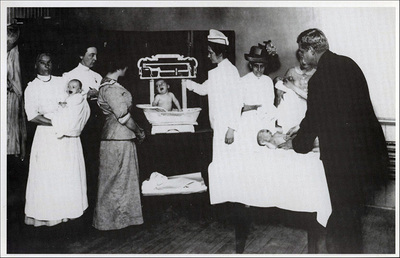 Exhibition Dates
June 10 - August 2, 2002
Description
A State of Health: New Jersey's Medical Heritage, June 10 - August 2, 2002.
Curator: Karen Reeds; Honorary Curator: David L. Cowen; Traveling Exhibition Coordinator: Lois Densky-Wolff.
Between June 10 and August 2, 2002, Walsh Library Gallery at Seton Hall University will present "A State of Health: New Jersey's Medical Heritage," a traveling exhibition celebrating more than four centuries of medicine in the state. The 48-panel exhibition includes more than 150 images of items illustrating New Jersey's rich medical history, including Civil War surgical instruments, patent medicine trade cards, X-rays, medicine bottles and old postcards of New Jersey Hospitals. The show will also include archival material from the inception of the first New Jersey medical school- Seton Hall College of Medicine and Dentistry (1954-1964), located in Jersey City. Artifacts from one of the earliest pharmacies in the state, Wheatley's Pharmacy in Burlington, will also be featured, along with many 19th and 20th century objects on loan from the collection of the University of Medicine and Dentistry of New Jersey Libraries.
COinS