Preview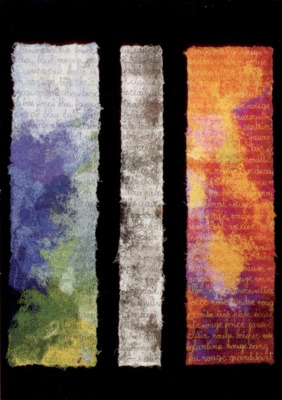 Exhibition Dates
March 21 - April 28, 2000
Description
Text in Textile: The Varied Work of Fanny Viollet, March 21 - April 28, 2000.
Co-sponsored by the Graduate Program in Museum Professions. Funded by the School of Diplomacy and International Relations, the Department of Art and Music, the Office of the Dean of the College of Arts and Sciences, and the Department of Modern Languages. Co-curated by Dejay Byrd, Quashelle Curtis & Michael Mulryan. Faculty Coordinator: Petra Chu. Gallery Director: Jo Ann Cotz.
Text in Textile at Seton Hall's Walsh Library Gallery is Fanny Viollet's premiere exhibition on the East Coast. Her work has also been widely shown in galleries across Europe, Japan and the West Coast of the U.S. Fanny Viollet, a French artist known for her works on fabric, has taken the medium of needle and thread (traditionally known as "women's work") and infused them with references to the past and present to create whimsical works with feminist undertones.