Preview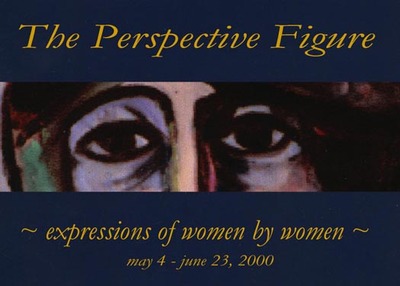 Exhibition Dates
May 4 - June 23, 2000
Description
The Perspective Figure: Expressions of Women by Women, May 4 - June 23, 2000.
Co-curated by Babe Model and Patrick Shaw. Co-sponsored by the Graduate Program in Museum Professions. Funded by the Women's Resource Center, The Department of Art and Music, and Friends of the Walsh Library Gallery.
What is revealed in The Perspective Figure is not so much expressions about the represented female figure, but revelations about the makers. Pouring over each piece may offer similar disclosures, informing as much about the artist as the content. The works are brought together in an eclectic blend - to be representatives of fine art in general, to promote figuration, and to celebrate the myriad incarnations of the human experience. They express the intimate state of mind of the artist, fulfilling exquisite forms where all joy, defeat, hope, contemplation, and pure nature are evident. These images are not immediate and direct; rather they are mediate and indirect, passing from figure to feeling to artist.