Preview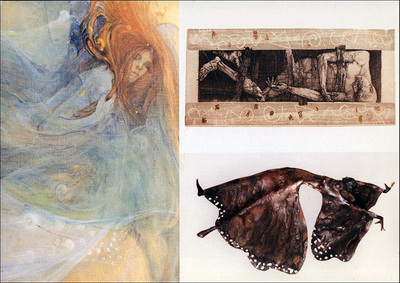 Exhibition Dates
September 1 - October 27, 2000
Description
A Response to Emotionalism: Recent Works by Three Eastern European Artists, September 1 - October 27, 2000, Reception: Friday, September 15th, 5-9 pm.
Aleksandra Nowak - Painting
Egidijus Rudinskas - Etchings
Lubomir Tomaszewski - Sculptur
Curated by Jan Kapera.
The Emotionalism movement evolved from a group called In Tune With Nature, led by internationally acclaimed sculptor and Professor Emeritus of Design at the University of Bridgeport, CT, Lubomir Tomaszewski. Beginning in 1994, he brought together a diverse international group of painters, photographers, printmakers, sculptors, fiber artists, dancers, and musicians, who would further a style that would be evaluated by feeling and emotional resonance. This objective resulted in an art form which speaks directly to the heart of a viewer who seeks a deeper connection to art and their life experiences. Today artists from over a dozen countries are part of the Emotionalism Movement. Their award-winning work has been exhibited internationally as well as at numerous Galleries throughout the United States. Seton Hall University joins a prestigious number of colleges and universities to show their work, including Harvard, Northeastern, Fordham, and NJIT.