Title
For The Greater Glory: Ecclesiastical Embroidery
Preview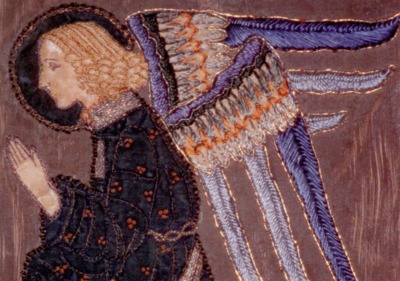 Exhibition Dates
May 26 - July 24, 1998
Description
For The Greater Glory: Ecclesiastical Embroidery, May 26 - July 24, 1998, Reception: Thursday, June 4, from 4:30 p.m. to 7:30 p.m, featuring a demonstration of ecclesiastical embroidery by Edith Anderson Feisner who teaches classes at the Community of St. John the Baptist, Mendham.
The exhibition chronicles the history of ecclesiastical embroidery from the eighteenth through the twentieth centuries. The show emphasizes the influences on the designs of the handwork and the symbolism that was employed in the embroidery. Most of the embroidered vestments were worn by the celebrant at Mass at the time of their creation, and some of the earlier pieces are still worn today. These extraordinary vestments and altar pieces are a unique art form of the religious ceremonies of Anglican and Episcopal Churches.
Over forty objects will be on display including such vestments as chasubles, copes, stores and alm bags. The altar pieces exhibited include frontals, burses and chalice covers. Selections of white work, silk thread embroidery, gold work and preparatory samples of the embroidery stitches are also shown. Work from the Community of St. John the Baptist in Mendham, where the sisters of the community designed and embroidered them in the early twentieth century will be exhibited. The silk and gold embroidered angels on the superfrontal and the Arts and Crafts design of the cope not only highlight the artistry of the work,but also draw attention to the sisters' art as a profitable activity for their religious community. This finely executed embroidery is truly a sight to behold. Many other pieces in the exhibit are on loan from All Saints Episcopal Church in Orange, and The Vestment Exchange in Mountainside. A piece from the Collection of the Roman Catholic Archdiocese of Newark at Seton Hall University's Special Collections will also be displayed.
There are three types of ecclesiastical embroidery. One is the use of silk thread embroidery on a canvas ground as can be seen in the work samples from the Community of St.John the Baptist. The second type is silk thread embroidered on silk ground. This can be seen in the embroidered images on the orphreys of the chasuble from All Saints Episcopal Church. Finally, metal thread embroidery may also be worked on a silk ground. The cope in the rear of the exhibition on loan from the Vestment Exchange shows the handwork of metal thread embroidery to its advantage. Many of the stores in the exhibition use silk and nietaffic thread embroidered together.
COinS