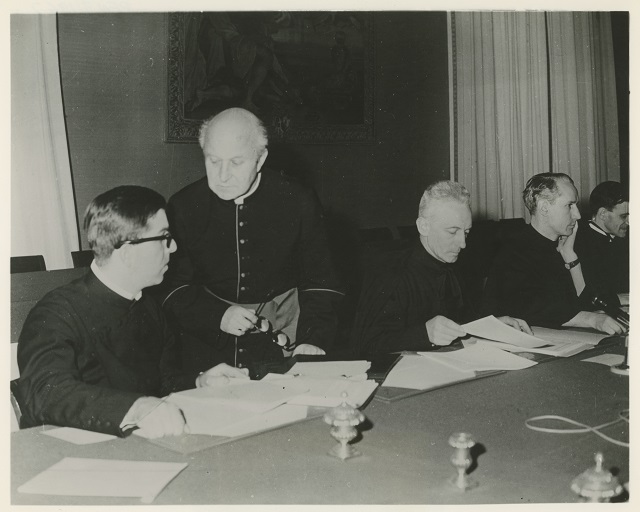 Explore the selected works of Monsignor John M. Oesterreicher, scholar, theologian, a principal architect of Nostra Aetate 4 and founding director of the Institute of Judaeo-Christian Studies at Seton Hall University.
This unique collection not only includes the seminal work Msgr. Oesterreicher completed during his tenure at Seton Hall University (1953-1993), but also features his pioneering work during World War II.
Most notably, one may read an article from Die Erfüllung, a journal he founded in 1934 and ultimately used as a platform to publicly denounce Nazi persecution and Adolph Hitler's glorification of race and hatred for Jews – an act that subjected him to interrogation by the Nazis and marked him as an enemy of the Reich.
Msgr. Oesterreicher's thesis, Racisme--antisémitisme, antichristianisme, documents et critique, which he completed in 1938 when he fled from his homeland of Austria to Paris to escape the Gestapo, is also published in its entirety in this series.
(Photo: Father Thomas F. Stransky (sitting left) and Father John M. Oesterreicher (standing) during a preparatory session before Vatican II, 1961. © Paulist Fathers)
Submissions from 1993
God at Auschwitz?, John M. Oesterreicher
Submissions from 1984
Martyrs of the Decalogue, John M. Oesterreicher
Submissions from 1983
Kinship Recalled, John M. Oesterreicher
Submissions from 1981
A Witness of God's Triumph, John M. Oesterreicher
Submissions from 1978
"Abba, Father!" On the Humanity of Jesus, John M. Oesterreicher
Submissions from 1973
Jerusalem the Free, John M. Oesterreicher
Submissions from 1971
The Rediscovery of Judaism: A Re-Examination of The Conciliar Statement on the Jews, John M. Oesterreicher
Submissions from 1969
Shalom: The Encounter of Christians and Jews and the Catholic Educator, John M. Oesterreicher
Submissions from 1964
The Brotherhood of Christians and Jews, John M. Oesterreicher
Submissions from 1963
Israel's Misstep and Her Rise, John M. Oesterreicher
Submissions from 1954
Mary of Israel, John M. Oesterreicher
Why Judaeo-Christian Studies?, John M. Oesterreicher
Submissions from 1953
Piety and Prayer in the Jewish Home, John M. Oesterreicher
Submissions from 1950
Max Scheler and the Faith, John M. Oesterreicher
Submissions from 1947
Pro Perfidis Judaeis, John M. Oesterreicher
Submissions from 1943
Racisme--antisémitisme, antichristianisme, documents et critique, John M. Oesterreicher
Submissions from 1935
Hominem non habeo, John M. Oesterreicher