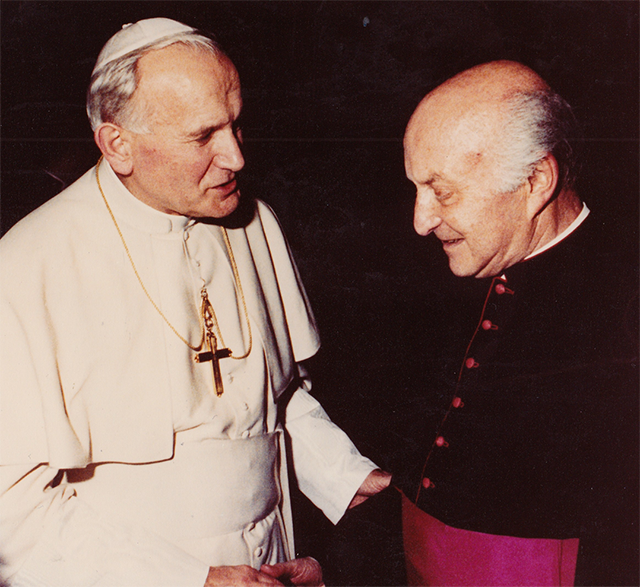 The Institute of Judaeo-Christian Studies has hosted an annual lecture since 1993 in honor of the life and legacy of our founding director, Monsignor John M. Oesterreicher. The event remembers his commitment to fostering interreligious dialogue and celebrates the strengthening of Catholic-Jewish relations.
(Photo: Pope John Paull II and Msgr. John M. Oesterreicher in 1981)
Submissions from 2022
A Jewish View of Contemporary Ideas of the Trinity, Alan Brill Ph.D.
Submissions from 2021
Msgr. John M. Oesterreicher's Use of Scripture and Rabbinic Writings in Reflecting on the Shoah, Gregory Y. Glazov D.Phil.
Submissions from 2020
Nonviolence: Intersectional Praxis for Covid-19 and Systemic Racism, Eli McCarthy Ph.D.
Submissions from 2019
A Journey to Dialogue: The Sisters of Sion and Jewish-Christian Relations, Celia Deutsch N.D.S., Ph.D.
Submissions from 2018
"Come Let Us Reason Together:" Jewish Responses to the Catholic Church's New Teachings on Judaism, David Fox Sandmel Ph.D.
Submissions from 2017
"Semper Reformanda" at 500: Old and New Questions for Christians and Jews, Peter Petitt Ph.D.
Submissions from 2016
The Vatican Document of December 10, 2015 "God's Gifts and Calling" Builds on Nostra Aetate, Noam Marans M.A.
Submissions from 2015
The Complicated Journey of "Nostra Aetate", John Borelli Ph.D.
Submissions from 2014
The Changing Relations between Christians and Jews, Robert L. Wilken Ph.D.