Preview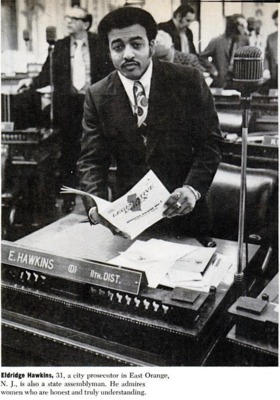 Seton Hall Law Graduation Year
1966
Description
Eldridge Hawkins (1940 - ) worked his way through law school at Seton Hall Law as a social caseworker with the Essex County Welfare Board, and obtained his law degree from Seton Hall Law on June 4, 1966. He then served as Acting Director of the Monmouth Legal Services Organization in Redbank, NJ, the prosecutor in East Orange, NJ, and as special counsel for the United States Employment Opportunity Commission before being elected to the New Jersey General Assembly for district 11-D. He served in the New Jersey General Assembly from 1972-1978.
While in the New Jersey General Assembly, Hawkins sponsored several high profile bills which didn't pass during his tenure including: a bill eliminating criminal penalties for possessing small amounts of marijuana, and an abortion on demand bill allowing women to get abortions on demand until 24 weeks pregnant. He was a vocal advocate for proposed legislation such as: failed bill 37-23 which sought to start a school lunch program, and a bill proposing to expand rights for prison inmates. Hawkins chaired a Assembly Judiciary Committee which significantly revised the penal code for the first time since 1796. The revisions included easing penalties on victimless crimes, eliminating antiquated laws, and toughening sentences for violent crimes. Additionally, at the request of Governor Byrne, Hawkins ran the high profile Rubin Hurricane Carter investigation in 1975.
Hawkins went into private practice after serving in the New Jersey General Assembly, where he continues to practice as of 2022.
Hawkins has received accolades and awards including the Rutgers University Public Service award in 1975, the Thurgood Marshall Award from Seton Hall in 1976, and was deemed a "Most Eligible Bachelor" by Ebony magazine in 1972.
He also served as the President of the Garden State Bar Association in 1978.
Bar Membership
NJ - 1967
US Federal Courts - 1967
United States Supreme Court - 1972
Undergraduate Institution
Rutgers University
Undergraduate Degree
B.A.
Undergraduate Major
Political Science
Undergraduate Graduation Date
1962