Title
Preview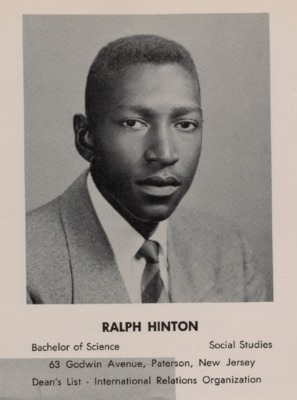 Seton Hall Law Graduation Year
1955
Description
Ralph H. Hinton, Jr. (1929-2019) was a member of the inaugural Seton Hall Law class which had 72 students, at least two of which were black. Mr. Hinton was the first black graduate of Seton Hall University School of Law in 1955. He did not go on to practice law, however, he was involved in the Patterson chapter of the NAACP, and was the chapter Vice President in 1985.
Undergraduate Institution
Seton Hall University
Undergraduate Degree
B.S.
Undergraduate Major
Social Studies
Undergraduate Graduation Date
1952
Rights
Seton Hall University, "Galleon 1952" (1952). Seton Hall University Yearbooks. Pg 115. https://scholarship.shu.edu/yearbooks/59