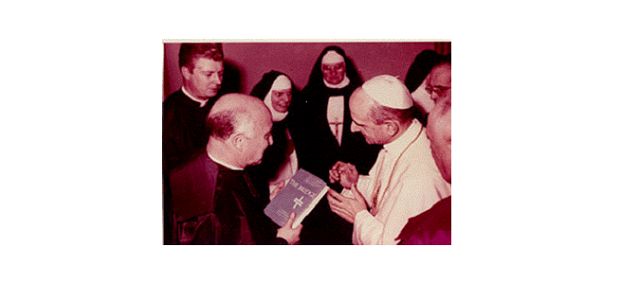 In 1955 the Institute of Judaeo-Christian Studies began publishing The Bridge, a series of five volumes of essays in various areas of Christian-Jewish relations by noted scholars and theologians.
Edited by Msgr. John M. Oesterreicher, the aim of The Bridge series was to show the unity between the Old and New Testaments and to encourage dialogue between the Christians and Jews.
(Photo: Msgr. John M. Oesterreicher presenting a copy of The Bridge to Pope Paul IV)
Books
Table of Contents, John M. Oesterreicher
Book Reviews
Book Review: 'Their Brothers Keepers' by Philip Friedman, Joan Bel Geddes
Book Review: 'An Historian's Approach to Religion' by Arnold J. Toynbee, James V. Mullaney
Book Review: 'Where Judaism Differed' by Abba Hillel Silver, John M. Oesterreicher
Book Chapters
Yahweh, the Divine Name, Myles M. Bourke
Theological Aspects of the State of Israel, Edward H. Flannery
Social Thought in the Old Testament, Bertram Hessler O.F.M.
Jews, Christians, and Moslems, James Kritzeck
Martin Buber's I-Thou Philosophy, John McDermott
The Prophets: Bearers of the Word, Frederick L. Moriarty S.J.
A Yeminite Prayer, John M. Oesterreicher
Contributors, John M. Oesterreicher
Introduction, John M. Oesterreicher
Notes and Acknowledgments, John M. Oesterreicher
The Hasidic Movement, John M. Oesterreicher
Light in Darkness, Elisabeth Orsten
Buber and the Significance of Jesus, Gerard S. Sloyan
Abraham Rattner, Painter of Anguish, Barry Ulanov
Job and His Comforters, Barry Ulanov