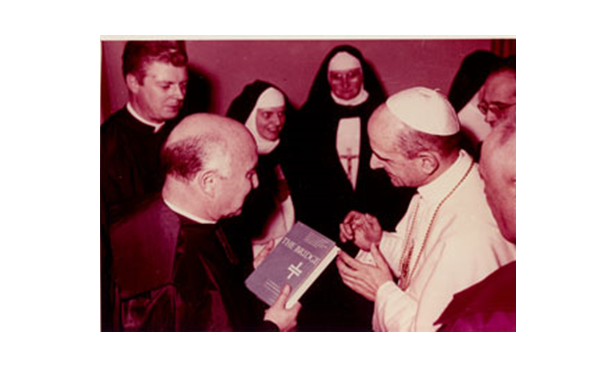 In 1955 the Institute of Judaeo-Christian Studies began publishing The Bridge, a series of five volumes of essays in various areas of Christian-Jewish relations by noted scholars and theologians.
Edited by Msgr. John M. Oesterreicher, the aim of The Bridge series was to show the unity between the Old and New Testaments and to encourage dialogue between the Christians and Jews.
(Photo: Msgr. John M. Oesterreicher presenting a copy of The Bridge to Pope Paul IV)
Books
Table of Contents, John M. Oesterreicher
Book Reviews
Book Review: 'The Iron Curtain Over America' by John Beaty, John J. Bracken
Book Review: 'The Messianic Idea in Israel' by Joseph Klausner, J. Edgar Bruns
Book Review: 'An Autobiography' by Jacob Epstein, Cornelia Sussman and Irving Sussman
Book Review: 'Guideposts in Modern Judaism' by Jacob B. Agus, Edward A. Synan
Book Chapters
The Blessings of the Jewish Prayer Book, Mary Ruth Bede
Hope and Despair at Evanston, Edward H. Flannery
The Word is a Seed, Alexander Jones
The Mysterious Destinies of Israel, Charles Journet
Anti-Semitism in the Soviet Union, William Keller
The Genius of Biblical Thought, Quentin Lauer S.J.
Dreyfus and After, Joseph N. Moody
A Word of Thanks, John M. Oesterreicher
Contributors, John M. Oesterreicher
Notes and Acknowledgments, John M. Oesterreicher
The Community of Qumran, John M. Oesterreicher
The Beasts and the Everlasting Love, Friedrich E. Pater
Chaucer's Prioress: Mercy and Tender Heart, Richard J. Schoeck
Pro Perfidis Judaeis, Kathryn Sullivan R.S.C.J
The Painter and the Prophets, Barry Ulanov