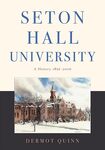 Title
Seton Hall University: A History, 1856–2006
Publisher
Rutgers University Press
Description
Founded in 1856 by Bishop James Roosevelt Bayley of Newark, Seton Hall University has played a large part in New Jersey and American Catholic life for nearly two centuries. From its modest beginnings as a small college and seminary to its present position as a major national university, it has always sought to provide "a home for the mind, the heart, and the spirit."

In this vivid and elegantly written history, Dermot Quinn examines how Seton Hall was able to develop as an institution while keeping faith with its founder's vision. Looking at the men and women who made Seton Hall what it is today, he paints a compelling picture of a university that has enjoyed its share of triumphs but has also suffered tragedy and loss. He shows how it was established in an age of prejudice and transformed in the aftermath of war, while exploring how it negotiated between a distinctly Roman Catholic identity and a mission to include Americans of all faiths.

Seton Hall University not only recounts the history of a great educational institution, it also shares the personal stories of the people who shaped it and were shaped by it: the presidents, the priests, the faculty, the staff, and of course, the students.
Keywords
Seton Hall University, Catholicism, History
Disciplines
Catholic Studies | History | Religion
Recommended Citation
Quinn, Dermot, "Seton Hall University: A History, 1856–2006" (2023). Seton Hall University Faculty Publications. 39.
https://scholarship.shu.edu/faculty-publications/39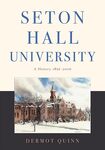 COinS